Veterans Home Care Services
NOW SERVICING NSW & TASMANIA
What is the Department of Veterans' Affairs?
The Department of Veterans' Affairs (DVA) Community Nursing Program provides veterans and war widows (entitled persons) with access to a range of quality health care and related services, including community nursing services and veterans home care.
The program is aimed at providing community nursing services to entitled persons to meet their clinical and personal care needs. Entitled persons include veterans and war widows who hold a Gold Card, and also those veterans with a White Card may be eligible for the service where the condition requiring nursing is accepted by DVA as war-related.
The aim of the program is to enhance the independence, quality of life and health outcomes of veterans and their widows by avoiding early admission to hospital and/or residential care through access to high-quality community nursing services.
How Can I Receive DVA Community Nursing Funds?
To receive DVA community nursing, the entitled person must obtain a referral from their GP or the Hospital Discharge Planner. Following this referral, the friendly team at Vital Home Health Services will liaise with you to arrange a convenient time to complete a comprehensive community nursing assessment by a highly experienced and dedicated Registered Nurse.
Vital Home Health Services offer a wide variety of Community Nursing services to DVA clients designed to maintain the health and wellbeing of the entitled veteran or widow. The services offered will depend on the client's assessed individual care needs.
At Vital Home Health Services, person-centred care is at the heart of our services, where each client receives a service that is personalized, tailored and that takes into account each and every aspect of the person's life, personal surroundings and preferences.
Veteran home care services include: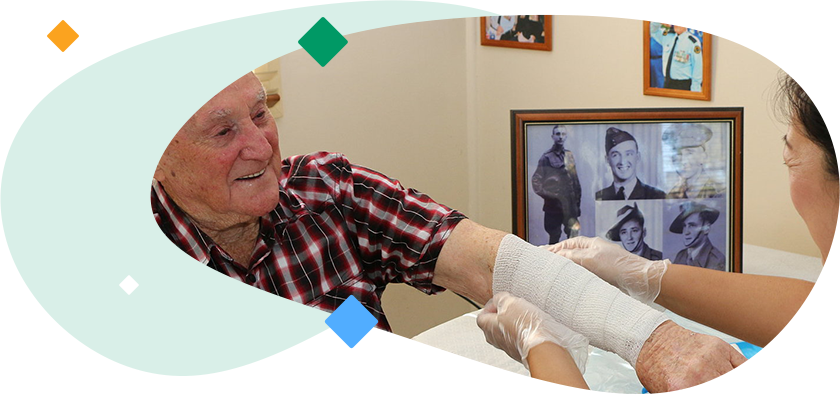 Veteran home care frequently asked questions:
DVA Community Nursing is funded by the Australian Government through the Department of Veterans Affairs. There is no cost to program recipients.