According to Dementia Australia, there are almost 459,000 Australians living with dementia at this time. Dementia is a group of symptoms that are caused by disorders in the brain. These symptoms will often impact daily functioning and worsen over time. Most people with dementia are older and will often require significant care. Vital Home Health Services provides a range of dementia care services to help those affected, as well as respite services for carers.
Contact Vital Home Health Services if you need to find out more about dementia care in Sydney.
What are dementia care services?
Dementia home care services are an array of services provided to clients with dementia in order to support their day-to-day living and needs. While there is currently no cure for dementia, research has shown that there is much scope to improve the quality of life of people living with dementia through the management of symptoms and providing a supportive environment.
Person-centred care is paramount and very important. This involves developing a thorough understanding of the individual person and giving consideration to their cultural background, personal history, social and family networks, and preferences for activities when designing their care. Vital Home Health Services provides person-centred care at the heart of our services, where each client receives a service that is personalised, tailored and that takes into account each and every aspect of the person's life, personal surroundings, and preferences. We pride ourselves on providing some of the best dementia care in Sydney.
People with dementia, together with their nominated carer or trusted family member, are highly encouraged to be involved in all decisions and changes regarding care and service plans. The supports and services our highly qualified care team provides are aimed at providing the best possible care and services with the aim of keeping people safe in their own homes and connected at all times.
Our experienced nurses and support workers will work to recognise the early signs of dementia, as well as provide support and assistance with activities of daily living for clients with dementia.
Signs you or your loved one may have dementia
In the early states of the illness, the person affected or their carer by notice signs of memory loss and confusion caused by otherwise normal routine activities.
Some other tip offs of dementia may include personality changes, unusual apathy or inability to function in day to day activities.
If these symptoms persist, it is important that a doctor's diagnosis is received as soon as possible.
There are many different forms of dementia, two of the most common being Alzheimer's disease or Dementia with Lewy bodies.
Dementia is a progressive illness, meaning that the condition will cause a continual decline in memory, understanding, logic and emotions. This may culminate toward a need for full-time care as the person affected begins to lack the ability to complete the simplest of functions.
There are three stages of dementia – Early Dementia, Moderate Dementia and Advanced Dementia. Learn more here.
Is it necessary to have dementia care?
Unfortunately, there is no cure for dementia. There are some treatments available to assist the person suffering.
However, as the disease progresses, a person with dementia will be unable to care for themselves, their pets or even their household. Simple tasks such as eating, grooming and cleaning become difficult, possibly leading to some tragic circumstances.
This is why care is so imperative to the management of dementia.
With the right support and care, quality of life can be significantly improved. Help can be given with feeding, personal hygiene and more, ensuring the person affected can continue living a safe and dignified life.
Contact Vital Home Health Services if you need to find out more about dementia care in Sydney.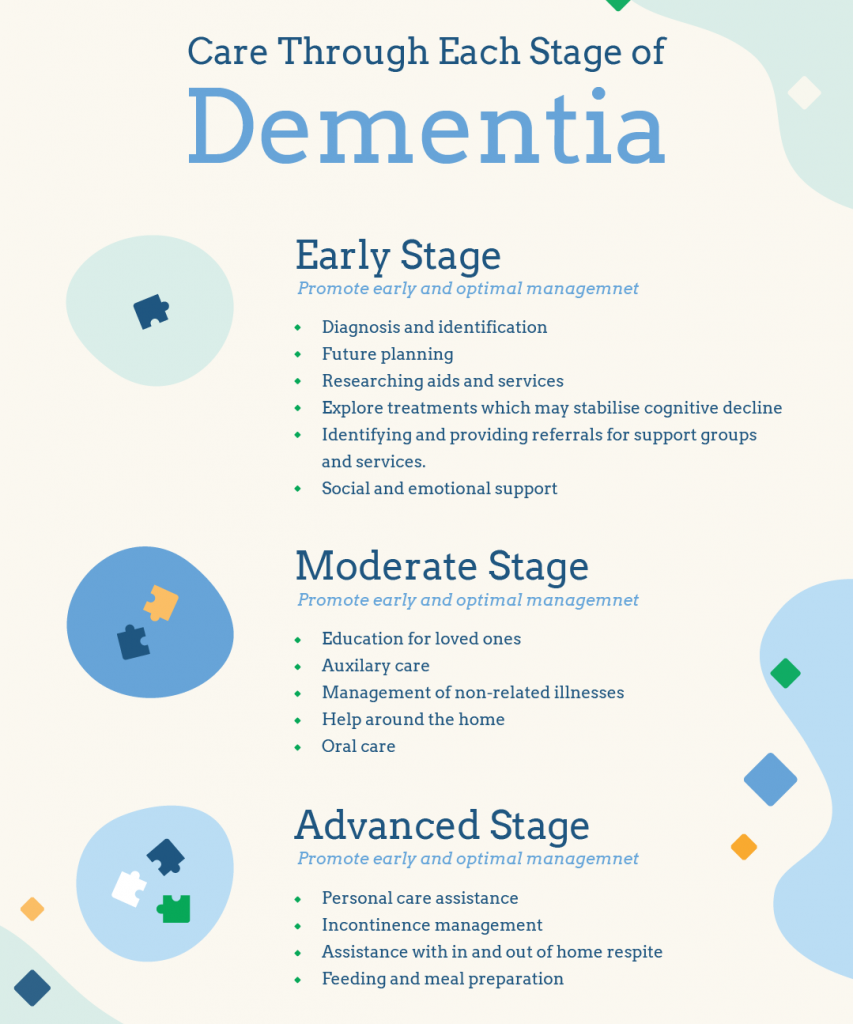 Respite for carers of people with dementia
Vital Home Health services can provide respite for carers of people with dementia. There are different types of government-subsidised respite services available. This includes day and overnight respite and short stays in residential aged care homes.
You can find out more about respite care here.
Frequently Asked Questions:
Dementia home care services we provide: Personal hygiene Oral care Feeding and meal preparation
Gardening Auxiliary care Social and emotional support Education and support for loved ones Wound management including complex wounds Incontinence management Medication management Assistance with in and out of home respite Education and support for loved ones Client and carer support and advocacy Education on prevention of falls Identifying and providing referrals for support groups and services. Regular liaison with the client and their loved ones to create dementia-specific care/service plans that meet the client's needs and goals throughout the trajectory of the illness. Referral to My Aged Care for further assessment
(e.g. Aged Care Assessment Team referral)
What is the process of receiving dementia care services?
The process of receiving dementia home care services is simple and we support our clients and their carers every step of the way so they feel reassured and supported in all of their decisions. A major role for clients receiving in-home dementia care is to support them in maintaining their independence for as long as possible.
The first step is to give us a call directly to discuss your exact needs. It is during this call that we can gather all of the information we require to customise a dementia care plan to meet client needs.
During this initial call, we will discuss the types of nursing and support care services available to you or your family member needs.
Contact us today or if you would like to make a referral, you can do so by clicking here.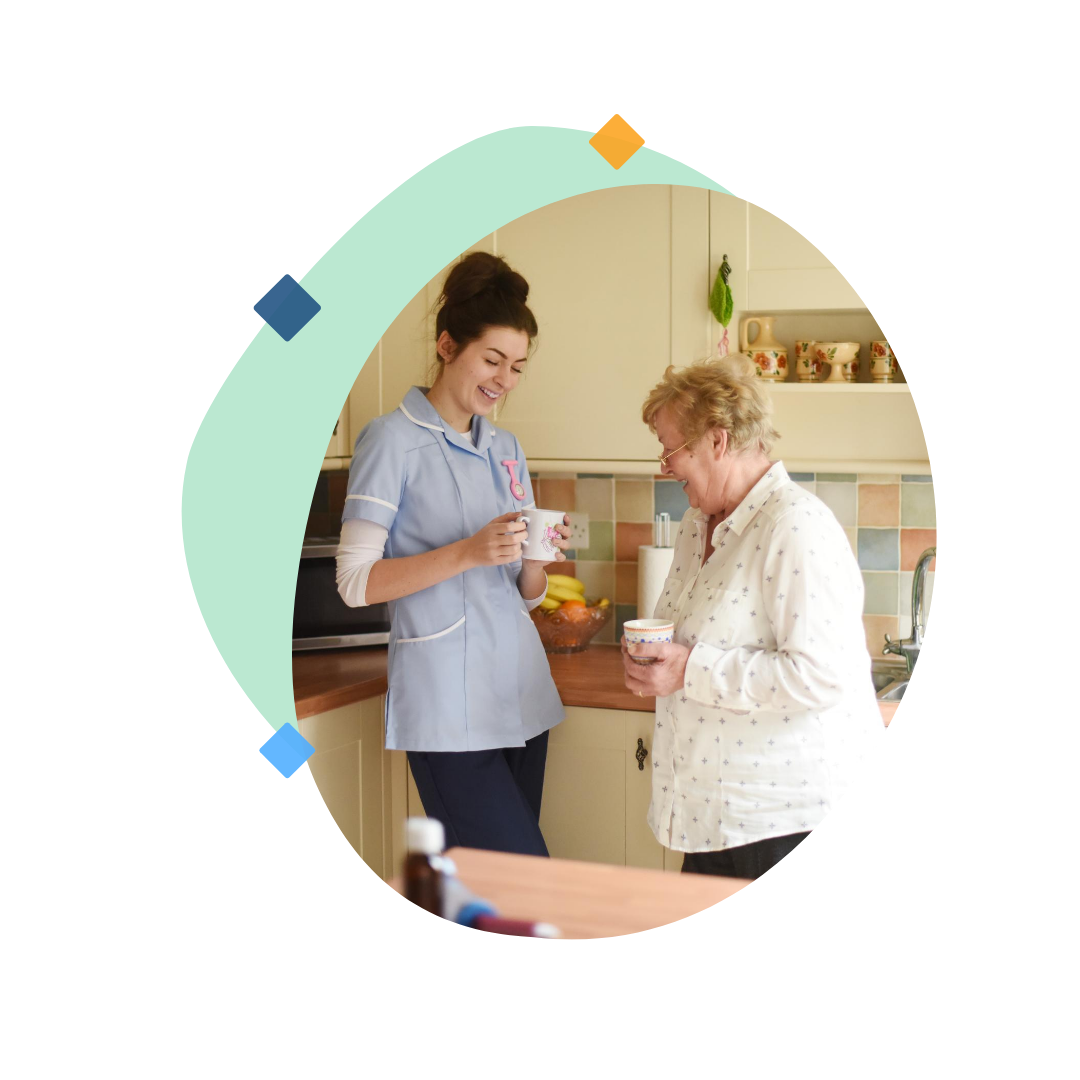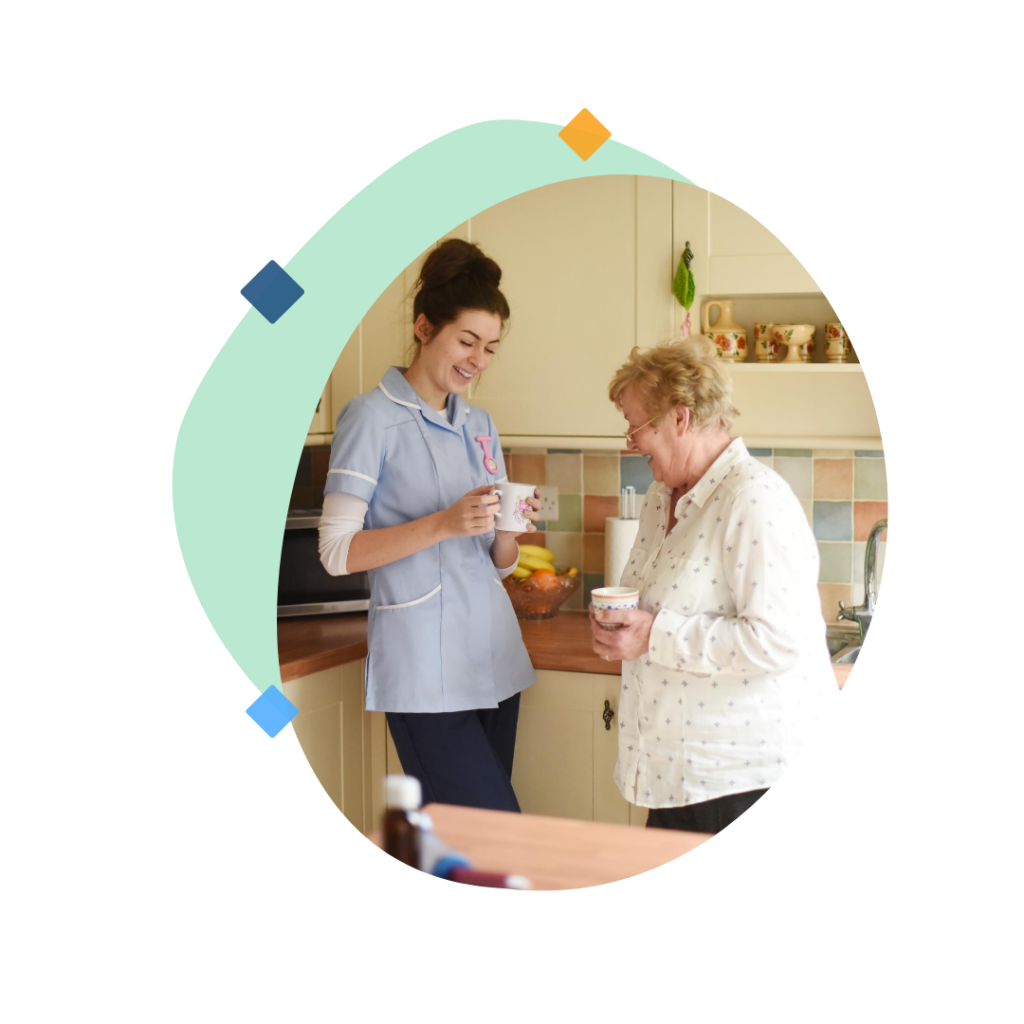 Receiving dementia home care services
Receiving dementia home care services is aimed at supporting our clients with many aspects of their daily lives. It is our goal to maintain the independence and confidence of our clients for as long as possible.
Our home support staff and services are aimed at ensuring our clients are comfortable and looked after well in their own home to make sure they are getting the most enjoyment out of their life.
Dementia support services and resources:
Additional services dementia care clients may benefit from: