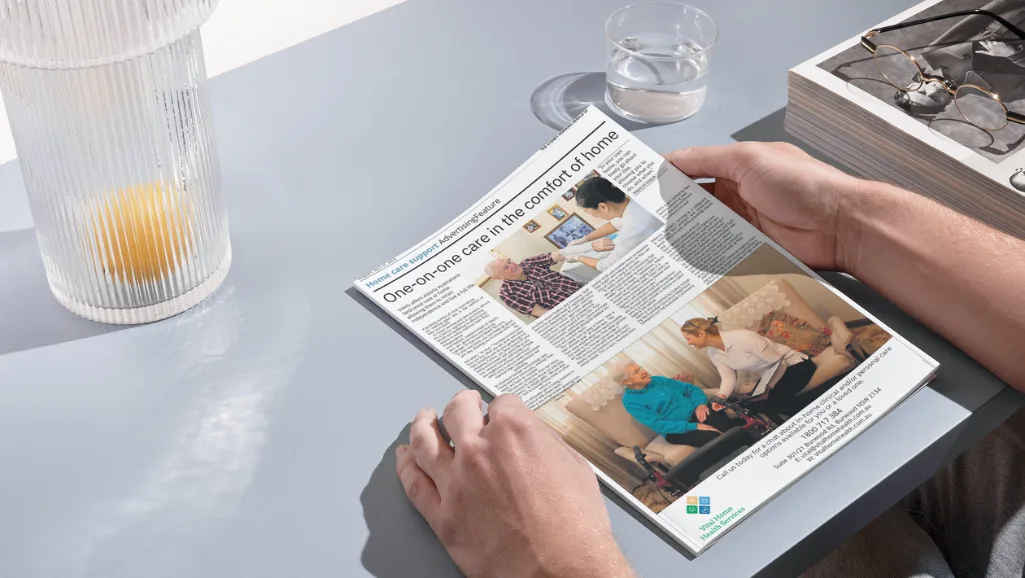 We are thrilled to announce that Vital Home Health Services (VHHS) recently featured in The Sydney Morning Herald!
This recognition from Australia's longest running news publication underscores our commitment to providing exceptional in-home care services to elderly Australians, while allowing them to maintain their independence and live fulfilling lives.
One-on-One Care in the Comfort of Home
In the news article, our People, Governance and Strategy Manager at VHHS, Adam Al-Hayek, talks about the growing trend among older Australians to receive personalised care in the comfort of their home and why it's becoming the preference for many.
"The benefit of being at home is you are free to go about your day, allowing you to choose what you do and when", said Al-Hayek of this holistic approach to care that prioritises both the health and wellbeing of elderly clients and their independence and freedom.
"Our clients wish to stay at home—that is their ultimate goal," he adds. "We then work around what they need to enable that wish to take fruition, from what services are needed to how we can provide it."
Proactive and Personalised Care
This focus on proactive and personalised care is just one reason among many that sets VHHS apart from other aged care providers in our industry. After a client's initial assessment, our team tailors a plan and delivers a service proactively to meet the unique needs of the individual, all within their safe space. Drawing from a dedicated team of registered nurses with over 85 years of collective experience in various aged care settings, VHHS provides more than an in-home care service to its clients but instils valued, trusted friendships between the client and carer.
It's no surprise we are one of the fastest-growing community and in-home nursing and care service providers across Sydney and Tasmania!
Collaborative Community Approach
While our team ensures exceptional service delivery, VHHS prides itself on a collaborative approach with other local community providers to ensure the unique needs of every client are met – from essential support with daily tasks to more complex care.
"Sometimes, help is as simple as providing respite care or a shower three times a week. Other cases require more intensive chronic disease management and palliative care," says Al-Hayek.
Together, these partnerships help improve the quality of life for clients, enabling them to maintain their health and independence for as long as possible.
Accredited, High-Quality Care
In our sector, a demonstrable ability to provide optimum care is essential. With multiple industry accreditations – from key bodies such as the Australian Council on Healthcare Standards and the Australian Community Industry Standard – VHHS is a capable and clinical 'safe pair of hands' for our clients and their families.
Part of this is due to our commitment to the ongoing development of our team. Individuals receive extensive training overseen by expert nurse practitioners, ensuring that the care provided is consistently of high quality and always delivered using best practice processes and excellence in care.
The Royal Commission into Aged Care
The 2021 'Royal Commission into Aged Care' shone a light on the quality of care provided in nursing homes, prompting a spike in interest in at-home aged care that continues to gain momentum with each passing year – certainly, for VHHS.
"The difference between in-home and facility care is that staff provide undivided one-on-one care, as opposed to a shared caseload among a few staff where it becomes almost impossible to attend to everybody's individual needs as they arise," Al-Hayek points out. Likely, this is another factor behind our company's growing success as a preferred in-home care provider for many aging Australians.
Final Words
Being featured in The Sydney Morning Herald is a significant milestone for us at Vital Home Health Services, reaffirming our commitment to providing top-notch, personalised, and clinically focused in-home care for elderly Australians.
You can read the article in full here.
VHHS is dedicated to ensuring that older Australians can continue to live their lives to the fullest, surrounded by the comfort and familiarity of their own homes.
For more information about our in-home care services, talk to our team.