Regular exercise can keep your bones strong, prevent falls, improve your energy levels and help you maintain a healthy weight. While it's not always easy to keep up with an exercise routine, particularly if you are not used to exercising daily, it's essential for staying healthy, especially as you get older. Fortunately, there are steps you can take to help you stay motivated to exercise.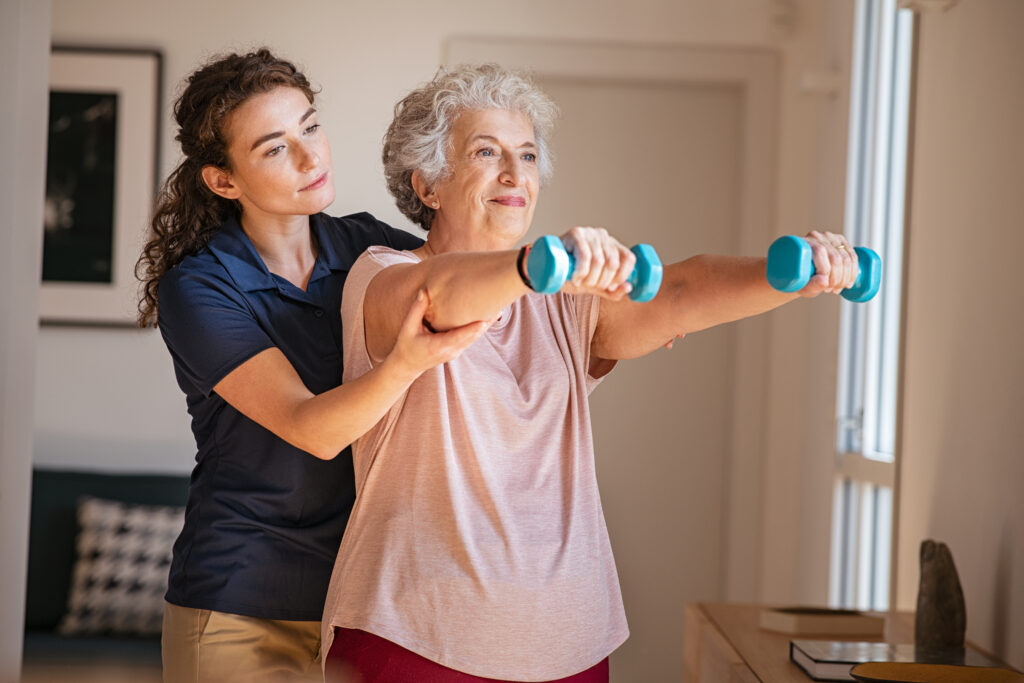 1. Keep it Simple
If your workout routine is too strenuous, you might quickly grow frustrated and it becomes difficult to keep up with. You may even risk injury if you start with exercises that are too intense.
It's best to start with light exercise and increase the intensity incrementally. There are many simple exercises to do at home for beginners that you can incorporate into your daily routine. You can always add more with time.
2. Exercise With a Friend
Daunting tasks are easier when you don't have to do them by yourself, or have an accountability partner. Find a friend whom you can encourage and motivate to work out at home, and they can do the same for you. The bonus point is that you can help one another stay motivated.
Since currently, due to COVID safety practices, you're not able to work out together, you may still find it helpful to chat by video, call or email to share advice and encouragement. Alternatively, you could even go on a COVID safe walk outside!
4. Establish a Routine
Research suggests you are more likely to stick to your workout routine if you combine it with something you already do every day. You can make your workout more enjoyable by listening to your favourite music or watching your favourite television programme. Alternatively, you can also incorporate your exercise routine into a daily ritual. For example, you can set aside time to do your exercises after your morning coffee or while watching the evening news. Following your workout with a pleasant activity like a relaxing bath can also be a good motivator.
5. Focus on Your Goals
How will daily exercise improve your quality of life? Make a list of things you hope to gain or accomplish through daily exercise. You may want to improve your stamina so you can play with your grandchildren. Maybe you'd like to go on holiday and walk around a historic city. Perhaps you simply want to live a more energetic lifestyle.
Keep your goals in mind, will make it easier to stay motivated to exercise.
6. Talk With Your Healthcare Provider
Your doctor or physical therapist can tell you about the benefits of exercise and give you tips on how to get motivated to exercise at home. More importantly, a healthcare provider can make sure your workout routine is safe and right for you. This is especially important if you are recovering from an injury or have a medical condition.
Choosing the right exercises will help you get the most out of your workout, so talk with your doctor about your workout routine.
7. Connect With Home Health Services
Home health care services are an important resource for seniors. Talking with your home health care nurse about starting a basic exercise routine at home can offer advice, and connect you with resources and support to help you on your journey. Regular sessions with a home health care service can also help you stay on task and motivated to keep exercising.
8. Enjoy the Benefits of Exercise at Home
There are so many different ways to exercise that starting an exercise routine can seem overwhelming to beginners. By starting with the basics, focusing on your goals, and taking advantage of the resources available, you can discover the benefits of working out regularly. Once you experience the rewards of daily exercise, you will be more motivated to continue. A regular exercise routine can help you live a longer, healthier, more active and more independent life.