When designing a space, whether it be our own homes, or workplace, our aim is to make the place function for us, with all the things we need to make ourselves happy and comfortable. However, when it comes to helping organise a person living with dementia's home, we find that extra work is needed to be taken to make the space safe and stress-free for the client.
Here are some considerations to note.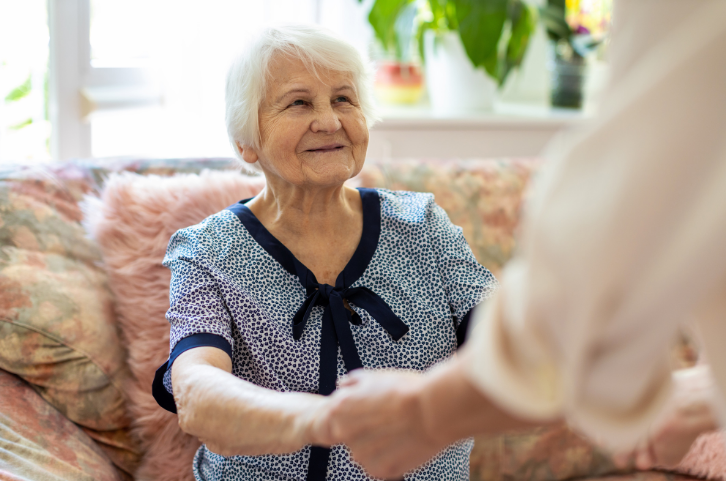 Signage and notes
If you need to leave notes or information for a client, on a surface like a fridge or notice board, it's important to make sure the note is placed on a background that contrasts against the colour of the note. For example, place a yellow note on a silver fridge so it stands out for the person. It's definitely advised that you use block letters to ensure clear legibility, if handwritten.
Lighting
Lighting is very important as clear vision is needed to avoid any accidents. The light needs to be well-lit, but not too intensely bright. Entrances/doors leading inside/outside need to be completely visible from the garden or street so that the person is able to find their way back ok. Staircases should be visible in the dark too, to avoid any missteps.
Flooring
When it comes to flooring, the best practise is to choose a plain or mottled patterned carpet as bold patterns may cause distraction to people living with dementia. Reflections from smooth flooring may cause confusion to the person, so it's best that if a smooth hard floor is desired, to go with a surface that isn't reflective. When changing from one room to the other, it's important to ensure that floor finishes are flush with one another, and that there are no unnecessary steps which could cause confusion due to perceptual problems and also pose a tripping hazard.
Bathroom
In the bathroom, it's advised to ensure the necessary assistance fixtures are in place for general aged care. This is usually just handles in area's to help a person sit down and get back up. Another idea that can help people identify the toilet easier if they have perception issues is to make the toilet seat a bold contrasting colour to the walls and floors of the bathroom. For example, if the bathroom is white and pale blue, having a bright red seat can help someone with perception issues locate the toilet.
Doors
Adding contrast to doors is a great way to make a space dementia-friendly. Some tips to make changes to doors include; using a D shape door handle that contrasts to the door to ease access, and using contrasting paint for the surrounding walls and architraves.
Seating
A person living with dementia should be able to identify seating easily. This may mean changing any fancy shaped sofa's for simple, comfortable and recognisable shapes. This also goes for outdoor seating – a wooden bench may be a better option than an artistic, modern approach to seating we tend to see these days.
With all this in mind, creating a safe and functional space for a person with dementia should be easy, whether you are organising the interior design of an aged care facility or assisting a family member with their home.
Don't forget, you can also Dementia Australia's home improvement tool to find more ways to create a dementia-friendly space.
You can download our pdf checklist here.
For a list of digital resources useful for dementia clients, check out this article.
To learn more about how we can help people living with dementia, have a look here.