After much-needed rain, the sun is finally shining across NSW, giving us some glorious summer days. It can be difficult sometimes to try and plan summer outdoor activities for our loved ones who are seniors or less-abled. Throw in the challenges of Covid and social distancing into the mix, and you might really be scratching your head for ideas. With a little planning and extra precaution, you'll find there are plenty of enjoyable outdoor activities that you can engage in with your loved ones in the summer. Read on for summer outdoor activities you can plan as a carer of someone who may be more vulnerable to the outside elements.
Why is it important to plan outdoor summer activities as a carer?
We know that the sun helps our body produce Vitamin D, which is deemed very beneficial, so a small dose of regular sun exposure is important.
Here is what The Australian & NZ Mental Health Association tells us about low Vitamin D levels:
'Low vitamin D levels have been linked to bone-wasting diseases like osteoporosis and osteomalacia. Although excess sunlight can contribute to skin cancers, a moderate amount of sunlight has cancer-preventive benefits.'
Don't forget to always be protected – here is the Cancer Council information page for how to be SunSmart.
Summer outdoor activity ideas
Hit the local pool
There is no doubt that being in the water is therapeutic. The benefits of water exercise have been known since ancient times. According to seniors.com.au, 'Water-based exercises offers resistance training through the hydrostatic pressure of water across the whole body surface, which offers additional benefits for balance, coordination, and mobility'. This kind of activity is beneficial for many people – not just seniors.
Have a high tea picnic in the park
Rather than lugging all your gear out in high noon, plan a late afternoon tea with some scones, fruit, small treats and some ice tea. Lay out a big blanket, some shade and you're ready to go. Make sure you have some picnic chairs handy for those who might struggle to sit on the ground.
Gardening
Is there anything more fulfilling than tending to a garden? What's even better is that daily exposure to nature is known to improve our mood. According to this article from the University of Minnesota, it makes us feel better emotionally, and also has several physical benefits.
Outdoor movies
There are many outdoor movie options around, but as you're taking extra care during Covid, why not set up your own at home? You can buy a reasonably priced projector from many places online. Hang an old sheet (to use as a screen) and some chairs and you are good to go! Set up some string lights for a lovely ambience.
Yoga or Tai Chi
Maintaining a healthy lifestyle that includes exercise is important at all ages. Early morning tai chi or yoga in the park are great activities to kick start your day. Not only are these exercises relaxing, they can also be adapted for seniors or those who are less-abled.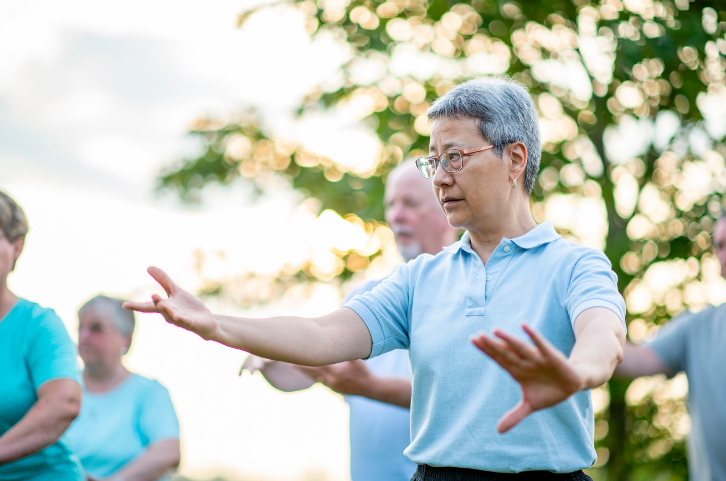 Fruit picking
Summer in Australia is perfect for fruit-picking. Just do your research beforehand to ensure there are no difficult walking tracks. Go well-prepared with sunscreen, hats, gloves and mosquito repellants. Don't forget, berry picking may be hard for some seniors and less-abled people, so try to make it as easy as possible.
Dessert on the beach at dusk
We know that swimming and water exercises are excellent for your physical health, but did you know that being near the water can actually make us calmer and happier too? Complete the trip with some ice-cream, fresh fruit or a cold drink.
Go for a drive
Sometimes the simplest pleasures are the best! Pick a suburb, and take a drive. Explore areas of your city you have never explored, checking out the houses, scenery or more. Perfect for those high 30-degree summer days. 
Outdoor games
Yard games are a perfect opportunity to bond with the family! Most are easy to play and great backyard fun. Croquet, giant board games or ring toss are all good ones that are not too physically demanding.
Conclusion
There are so many fantastic activities that can be planned if you are caring for a senior or less-abled loved one. With a little creativity, planning and sun protection, you can really organise some unique and enjoyable summer adventures.