Palliative care is all about the care a person receives when they are living with a terminal illness or other condition that limits the span of their life. A person can receive palliative care in a hospital, a hospice, a long-term care facility or in the comfort of their own home. Where palliative care takes place can depend on the severity of the illness or condition, and the client's wishes.
As a person's condition progresses, palliative care is about managing symptoms, assisting with the sick person's functioning, offering support to carers and family members, as well as helping out with other related tasks.
What Is Quality Of Life In Palliative Care?
People with terminal conditions have specific needs, both physically and on a psychological level. Recovery is not expected, so the care, and the ultimate outcome, differ from other medical cases.
Ultimately, the overall goal of palliative care is to improve the quality of life for the person (and their families and carers), no matter where that care is taking place. Whether it's in the hospital or the family home, palliative care is delivered in such a manner that it makes life a lot more comfortable for the client on every level.
No matter where the care is to take place, it first needs to be planned out so the very best results of that intended care can be achieved.
Quality Of Life In Palliative Care
As mentioned above, there is initially a planning stage before palliative care help can be administered. This planning needs to take into account things like the client's wishes and desires, what their actual condition is, where the care will be administered, the wishes of family members, the protocols of doctors and specialists and more.
Everyone is a little different and so are their specific circumstances. Therefore, there is no one set plan for palliative care, as it has to be worked out on a case by case basis. The focus, ultimately, is providing the best quality of life the client can wish to experience under the circumstances.
Let's now take a look at how quality of life in palliative care can be achieved for the client.
How Does Palliative Care Improve Quality Of Life?
Palliative care help is administered by trained medical professionals, whether it be in a hospital, hospice or in the home. First and foremost, the client's wishes are taken into consideration so the care can be given in such a way that the person is most comfortable and as happy as they possibly can be under the circumstances.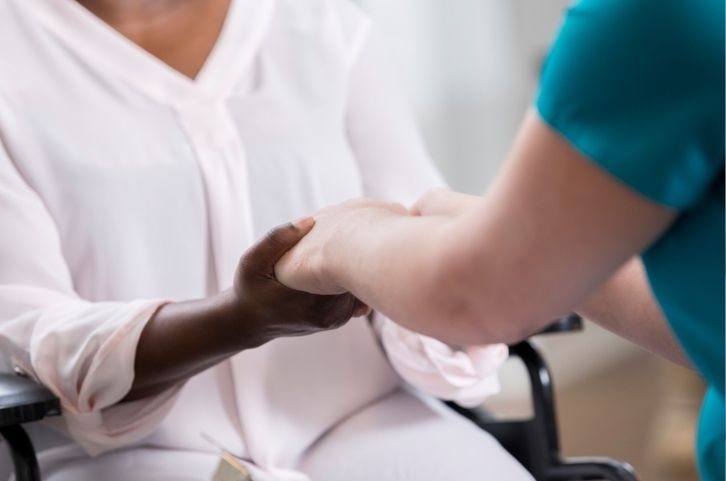 Receiving care at home could be one of the main wishes a client wants fulfilled so their quality of life is improved. When it comes to home care, other considerations come into effect, such as providing specialised medical equipment, specialist beds if necessary, having all of the required medications on hand, and everything else required to administer the required care.
Carers, clients and their families tend to develop relationships. This leads to a sense of familiarity and understanding among everyone, which also improves the quality of life for everyone involved.
Palliative care workers perform the necessary medical duties, which includes things like pain and symptom management, help with bathroom functions and bathing. They are also responsible for the management of medications, liaising with doctors and specialists, psychological support and an array of other care services.
Other tasks carers involved in palliative care can and will undertake are things like chores around the home, running errands, preparing food for and feeding the client, doing shopping, providing transportation and much more.
Palliative care is a very involved role, with the ultimate outcome being a better life for the client.
Palliative Care With Vital Home Health Services
Vital Home Health Services are specialists when it comes to quality palliative care within a person's home environment. If you or your loved one is living with a terminal condition and are interested in home palliative care, get in touch and we'll explain how we can help you to improve the quality of life for everyone involved.