Loss of vision, especially later in life has the potential to have a devastating impact on one's quality of life. After all, vision loss, whether it is glaucoma, macular degeneration or something else, ultimately causes a massive shift in how ones senses are applied on a day to day basis.
If your loved one has been recently diagnosed with vision loss, don't fret. It's a problem more common than you think, with 55% of Australians having one or more long-term eye conditions. 93% of those affected are 55 and over (ABS data sourced vis aihw.gov.au). Vision loss could be partial or full loss of sight in one or both eyes, and can worsen over time, especially if it is related to disease rather than injury.
As a carer or loved one of a person impacted by vision loss, you may be shocked, scared and afraid of how your loved one can cope, especially if they are living alone. Rest assured, with proper care and planning they can lead a happy life and may even carry on living at home in some circumstances. Here are some pointers, resources and guides to help you and your loved one navigate this challenge.
Support your loved one emotionally
According to VeryWell, some doctors compare the initial reaction to vision loss to the different stages of grief after the loss of a loved one. With eyesight being so essential to our daily lives, it is only natural that the person with vision loss should experience depression, denial and anger.
As a carer or loved one, ensure you are there to encourage the person suffering as much as possible, whilst helping them deal with the practical hurdles that may arise. Finding the best support is something else you can do, whether it is counselling or something else.
Some more information on emotional support for vision loss can be found here. You can also find some mental health tips here.
Social support for those with vision loss
Isolation is another emotion that may be creeping onto someone experiencing vision loss. Social support is immensely important.
Getting together to play trivia and tactile games (such as Dominos), reading a magazine or newspaper aloud, or offering a cuddle with a friendly pet, are all great ways to engage your loved ones socially.
Vision Australia also offers some information about community groups for those who are blind or have low vision – a great way to connect with others in the same situation.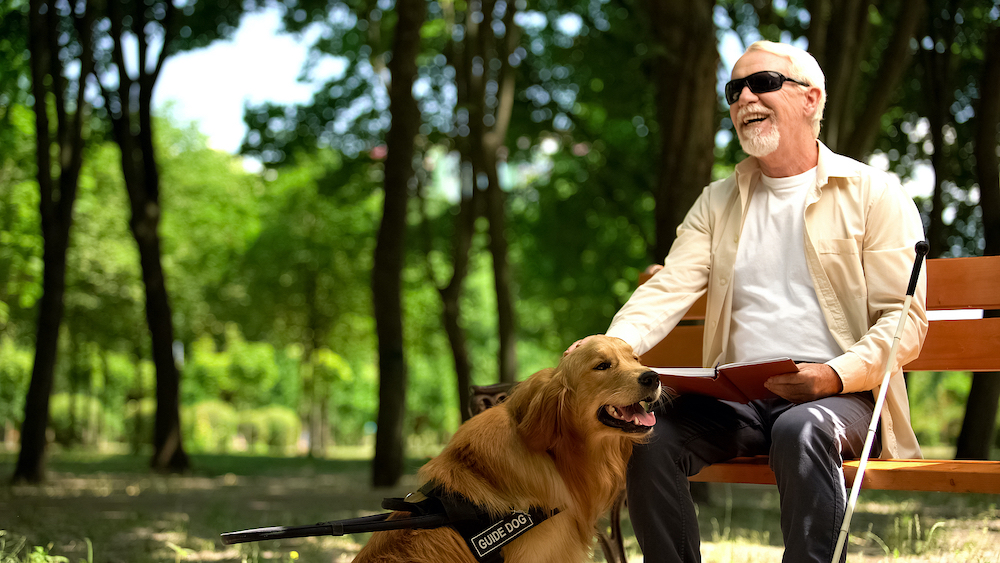 Finding appropriate activities to combat boredom
In addition to audio activities such as music, audiobooks, radio and podcasts, there are plenty of other ideas for activities for those with vision loss. For braille and audiobooks, have a look here.
For those with lower vision loss – painting with high contrast materials using large brushes is a great idea. Sculpting with air-dry clay is another fantastic idea – soothing and fun.
A guided nature walk or a trip to botanic gardens is another idea. Flowers are a fantastic pastime – tactile and fragrant. Depending on the level of vision loss, you could even create a safe mini-garden for the person.
Finally, fidget spinners, worry beads and stress balls are other distractions that are also quite soothing.
Tips for managing at home
Depending on how much vision loss has occurred, there are plenty of improvements that can be made around the home.
This includes improving lighting, removing hazards and using tactile labels. Better Health Victoria has a great guide here.
Do some research on accessibility improvements and vision aids.
You'll also need to decide on the level of care the person needs, especially if they are wanting to live at home. Of course, this is all dependant on the amount of vision loss. Talk to us at Vital Home Health Services and we'll be able to guide you on this.
Bonus Tip
It may be wise to consider some braille training, for the person affected and even a family member. Vision Australia offers reasonably priced braille courses for people of all ages – even the elderly.
In Summary
Vision loss can be a scary and overwhelming thing to deal with – but with a few proactive steps to help your loved one overcome emotional, social and practical challenges, day to day problems can be minimised.
If you need help with a loved one who is combating vision loss, we can assist you with a range of services. Get in touch with Vital Home Health Services today.
Helpful vision loss resources
Vision Australia – provides a variety of guides, services and programs to help those with vision loss
Telstra – list of Telstra products to help those who need accessibility tools
Guide Dogs – guide dog charity that contains some good resources
The Royal Society for the Blind – not-for-profit organisation providing services to those who have a severe vision impairment.
For resources on vision loss causes affecting older Australians, please check out the below:
Glaucoma Australia
Macular Disease Foundation Australia
Diabetes Australia
Retina Australia