Originally published on 30th April 2020
At Vital Home Health Services, the health and safety of our clients is our utmost priority. A large proportion of the people in our care are elderly and within the high-risk category, a fact we're acutely aware of and on top of.
CLICK HERE TO VIEW THE LATEST INFORMATION REGARDING
THE COVID-19 VACCINE ROLLOUT FOR NDIS RECIPIENTS
CLICK HERE TO FIND A COMPREHENSIVE LIST OF RESOURCES
CLICK HERE TO FIND OUT ABOUT ACCESS TO HOME TESTING FOR COVID-19
Update: July 18th
Vital Home Health Services continues to work around the clock providing COVID safe, essential care and services to Greater Sydney.
Our staff have remained vigilant and committed to the public health orders as they have evolved during this pandemic. Our staff continues daily COVID-19 signs and symptom checking, temperature checks, regular testing for COVID-19, and do not go to work even with the slightest signs of COVID.
Vital Home Health Services staff has always maintained high level, appropriate and effective use of PPE during care and service provision as well as when traveling to and from work.
Additionally, our staff residing in the Canterbury-Bankstown, Fairfield & Liverpool LGAs will attend ongoing COVID-19 testing every 72 hours even if they do not have symptoms. Rest assured we are doing everything we humanly can to keep clients, their families, staff, and the community safe.
CLICK HERE TO FIND MULTI-LINGUAL RESOURCES CONTAINING COVID TESTING INFORMATION.
Vital Home Health Services COVID-19 policies and procedures are up-to-date thorough and well communicated to all staff on all levels.
Our approach to preventing the spread of COVID-19 from the onset has been highly effective which has allowed us to continue to support so many of our clients to stay safe and well cared for in the comfort and surrounds of their homes. Please do not hesitate to reach out to us if we can be of any assistance.
Factual, accurate vaccine information
With frequent new COVID-19 vaccine developments, it's normal for people to have questions or concerns, and possibly feel unsure about getting a vaccine. To support you and those around you to make an informed decision, you can access accurate, evidence-based information on the Department of Health's website.
COVID-19 vaccines – Is it true? Provides clear information addressing common questions and concerns, and separating misinformation from the facts. This resource includes evidence-based responses to a broad range of questions including:
Answers to common questions on COVID-19 vaccines are available in 63 languages.
There is also a range of information about COVID-19 vaccines available in English and translated in 63 languages.
Another excellent resource is the Department of Home Affair's website which features Misinformation and truths about Coronavirus (COVID-19) providing the facts to common misinformation about COVID-19 and vaccination.
A fact sheet is also available on misinformation and the facts on COVID-19.
Update: June 26th
Note: click here to register for a FREE online event held by Seniors Rights Service and the Older Persons Advocacy Network. Older people living in residential aged care in Greater Sydney and their families are invited to a Zoom meeting to ask questions about the latest COVID-19 outbreak.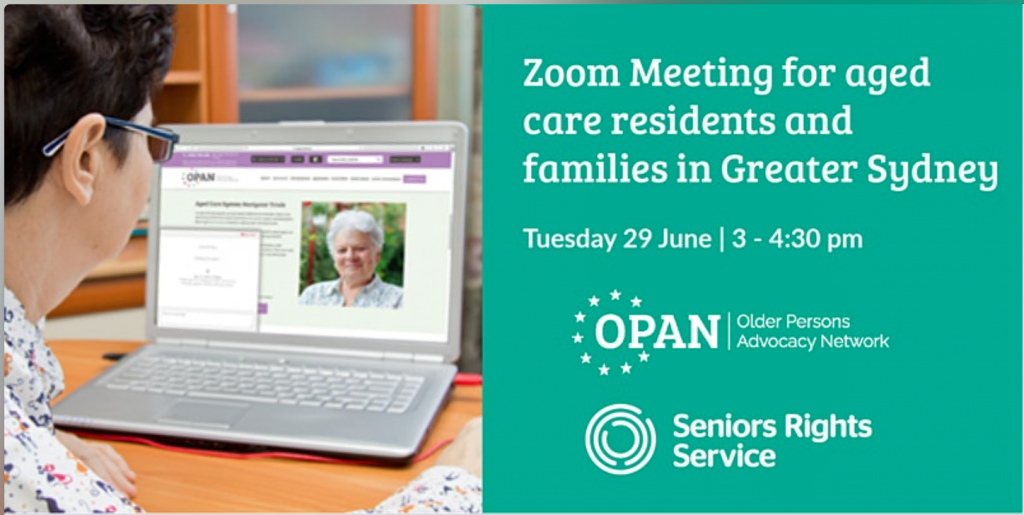 Vital Home Health Services continues to provide essential care and services to Greater Sydney during the lockdowns that started at 6pm on 26th June.
Where it is safe to do so, our staff continue to adhere to our already unwavering and robust COVID-19 safe work practices.
Vital Home Health Services COVID-19 staff practices include temperature checks, symptoms monitoring and reporting, as well as testing processes and have had extensive training on the importance of hand hygiene and the use and safe disposal of used PPE. The safety of clients utilising our care and support services is important to us and our first priority at all times.
Vital Home Health Services staff are as committed as ever to keep clients and the community COVID-19 free and safe at all times and adhere to all COVID-19 responsibilities. Vital Home Health Services staff adhere to the latest NSW Health advice, so we can all keep each other safe.
Please do not hesitate to reach out to us if you have any questions or concerns. We are here to assist you in any way we can.
This page, from the NSW Government, has links to Easy Read resources which explain COVID-19 with words and pictures and may be helpful for those with disability. Find it here.
A list of essential COVID-19 resources may be found here.
Watch the following video to learn more about the additional measures we've implemented at Vital:
Update: June 1st
Our team are monitoring the escalating situation in Victoria and are closely following all Department of Health notices to ensure we stay updated with the latest advice.
We would like to assure our clients that we also have appropriate measures in place to ensure that anyone who has visited Victoria or any other areas with active cases does not come into contact with any staff or clients.
In addition, we continue maintain exceptional levels of infection control pre-cautions and are ready to make any changes should any be required by the Department of Health.
Vital Home Health Services is doing their part to ensure the Covid-19 vaccination program moves as efficiently as possible. All staff have access to the vaccination program and have been advised to complete their vaccines as soon as convenient. Where required, we are also facilitating vaccination for our clients.
Update: May 6th
In light of the latest Covid-19 numbers, Vital Home Health Services are carefully monitoring the current unfolding situation across Sydney.
Across the organisation stringent infection control measures have remained in place and we are prepared to make any changes immediately as per any Department of Health recommendations.
We recommend all staff and clients adhere to; and keep up-to-date with the latest Covid-19 restrictions in NSW, which can be found here. Please take note of the changes to restrictions in aged care facilities as well.
As a disability and aged care provider, our staff are eligible and have access to the Pfizer vaccination program. This has ensured all staff have a vaccine option available.
Update: February 2nd
Since the beginning of the year much has changed in terms of both case numbers and regulations.
The long-awaited vaccine roll out is due to start in a few weeks. You can find the official government information about the vaccine here.
OPAN (Older Persons Advocacy Network ) are holding a free online education session regarding the vaccine – COVID-19 Vaccine – What You Need To Know. You can register here.
Whilst case numbers are tracking zero, the NSW government is issuing alerts regarding sewage traces as well as offering increased testing in any areas of concern. You can track these updates here.
On Jan 29, many restrictions were lifted again, including those affecting the number of visitors allowed at a residence, outdoor gatherings and more. Find the latest on restrictions here.
Requirements for face masks have also changed. They are mandatory on commercial flights and airports, but recommended in indoor settings. Find out more here. Masks are compulsory for all staff and visitors to an aged care facility. Current aged care restrictions can be found here.
At Vital Home Health Care, we are still maintaining the same level of high-quality standards.
We do this by;
Adhering to all Department of Health infection control guidelines
Effective provision, use and disposal of PPE when providing services
High standards of hand and personal hygiene
Social distancing at work, during travel and daily living
Minimising staff working across multiple settings
Continuous training and education
Routine screening and temperature checks
Proactive COVID-19 testing within the workforce.
Vital Home Health Services will continue to work with these high standards throughout the vaccine rollout and beyond to ensure prevention and spread of COVID-19.
Update: January 5th
In light of the recent outbreaks across Sydney, our registered nurses and support workers have continued wearing face masks and face shields as well as closely monitoring for symptoms of COVID-19.
Our Clinical Management Team is also closely monitoring staff for symptoms and ensuring any team member that has been in close or casual contact with any of the confirmed COVID locations have gone into self-isolation.
We have a dedicated Human Resources team and a robust and committed workforce that is on call when needed and this has served us and the clients in our care very well during this difficult time. Our staff has been working hard over the Xmas and New Year Period, and, many did not take their much deserved time off and have ensured all clients in our care were not isolated or in need over this period.
Furthermore, our staff has also supported hundreds of family members who were in lockdown. It has been a privilege to help people to connect with loved ones over this period of time. For example, our staff made facetime calls to family members while they were in the client's home to give people an opportunity to see each other virtually as many could not see their loved ones or family in person. Once again going beyond the call of duty for the health and safety of the community we provide care and services to.
The executive team at Vital Home Health Services continues to monitor the advice and outbreaks through NSW Health to ensure our clients and the vital team are safe and taking all of the necessary measures to remain COVID-safe as well as reduce and minimize disruptions to peoples lives and livelihoods.
Our services are committed to making sure that staff members or client's that display the symptoms of COVID get tested, and if they have been in close contact or at any of the mentioned venues to also get tested and isolate for 14 days. This is our responsibility and we take it seriously.
We encourage everyone to stay up-to-date with the most relevant information from NSW Health by visiting the following sites:
The advice from NSW Health to home and disability care provider is as follows and we wish to reassure you that we are adhering to these guidelines at all times;
Minimise staff working across multiple settings (such as in-home and residential care).
All staff across NSW. are required to wear surgical masks during home visits
Ensure staff actively ask clients about symptoms on arrival. If staff become aware of a client with symptoms, that client should be isolated from others and arrangements made for COVID-19 testing.
Exclude all staff from home visits who:
have a fever (37.5°C or higher) or any symptoms consistent with COVID-19 infection, even if mild. Symptoms of COVID-19 include fever, cough, headache, fatigue, runny nose, sore throat, shortness of breath, and loss of taste or loss of smell. Other reported symptoms of COVID-19 include acute blocked nose (congestion), muscle pain, joint pain, diarrhea, nausea/vomiting and loss of appetite
during the last 14 days have been:
a close contact of a person confirmed with COVID-19 and are within their self-isolation period.
in any of the locations on the self-isolate and get tested immediately list, at the times and dates listed.
in any of the locations on the monitor for symptoms list, at the times and dates listed except where noted otherwise
Vital Home Health Services is a dedicated workforce with a commitment to the prevention and spread of COVID-19. Our dedication to providing safe, cost-effective, and reliable services to you has never wavered and we stay strongly committed to the protection of clients and staff alike.
Update: November 17th
The Department of Health has recently released some new information in regards to the use of face masks in the community setting.
If there is a rise in community transmission of COVID-19 in Australia, some states and territories might recommend or require the use of masks. It's important to stay up to date with advice in your local area. Your state or territory government will provide this.
Cloth masks are a washable covering and further advice on how to clean them is below. If your cloth mask becomes damp you must remove it, put on a fresh one and put the used one in a plastic bag for washing at the end of the day.
Access the full fact sheet here
NSW Health have also released a series of COVID-19 frequently asked question video answers, check them out here.
The videos answer the following questions:
Who can catch COVID-19?
If I'm not feeling well should I get tested for COVID-19?
If I have COVID-19 what are the rules?
Dating and hanging out with friends during COVID-19.
Can a family member visit me if I need to go to hospital?
How is NSW Health protecting people?
How can we take care of our mental health?
Visit this link to see all of those videos and transcripts: https://www.health.nsw.gov.au/disability/covid-19/Pages/jan-and-ella-videos.aspx
Update: October 30th
During recent weeks the Aged Care Quality and Safety Commission have released additional resources to support aged care providers, the aged care workforce and aged care recipients with living and working in this new-normal.
These resources include:
At Vital Home Health Services, we continue to follow the advice from the world health organisation and implement good hygiene best practices.
If you are a client of ours and are concerned we urge you to call the national coronavirus helpline on 1800 020 080. Call this line if you are seeking information on COVID-19 or need help with the COVIDSafe App, the line operates 24/7.
Update: October 9th
At Vital Home Health Services, our nurses and support workers continue to wear face masks/shields in our clients' homes when providing care services and interacting with clients families. We also encourage our clients and their families to wear face shields when practical.
The health advice to stop the spread remains:
Practise good hygiene
Practise physical distancing
Follow the limits for public gatherings
Understand how to isolate if you need to
If you are a client of ours and are concerned we urge you to call the national coronavirus helpline on 1800 020 080. Call this line if you are seeking information on COVID-19 or need help with the COVIDSafe App, the line operates 24/7.
Update: August 18th
Vital Home Health Services continue to mandate that all Vital Home Health Services Registered nurses and care and support staff wear face masks and the added protection of face shields when attending care provision and interacting with clients and families across all regions. Clients are also been advised to use face masks where practical to do so, to ensure everyone's safety.
The advice given by the Australian Government remains: For people at increased risk of severe COVID-19 themselves because of older age or chronic illness, physical distancing is most important. If you cannot maintain physical distance, wearing a mask is an important protective measure.
For people who choose to wear a mask it is important to wear it properly:
Wash or sanitise your hands before putting it on or taking it off
Make sure the mask covers your nose and mouth and fits snugly under your chin, over the bridge of your nose and against the sides of your face
Do not touch the front of your mask while wearing or removing it
Do not allow the mask to hang around your neck or under your nose
Do not reuse single-use masks; wash and dry reusable masks after use and store in a clean dry place.
Our team and clients continue to social distance when possible and ensure thorough personal hygiene practices. The advice remains to our team and clients, if you are unwell, get tested and stay at home.
Additional resources on wearing a facemask can be found here:
Update: July 28th
Due to the developments in NSW over the last few weeks, Vital Home Health Services have now mandated that all Vital Home Health Services Registered nurses and care and support team wear face shields when interacting with clients across all regions. Clients are also been advised to use face masks where practical to do so, to ensure everyone's safety.
Following the advice from NSW Health, we continue to practice social distancing and thorough personal hygiene. We continue to be vigilant and supportive of the wellbeing of our staff to ensure they are fit and healthy to be delivering services to our clients.
We must all help slow the spread of the coronavirus, save lives and protect our valuable health workers.
Anyone can catch and spread COVID-19 without knowing, thus putting everyone at risk, particularly those who are elderly and those with weakened immune systems, ongoing medical conditions and people over 60.
Listen to the advice of NSW Health and get tested, even if you only have mild symptoms like a cough. You can help stop the spread of COVID-19 in the community.
Click here to find a testing clinic near you
Update: July 16th
During recent weeks, Vital Home Health Services have continued to stay vigilant with being COVID safe and implementing safe working practices. We are aware this pandemic is not over yet and will continue to impact the way we work and live. Our continued emphasis on the importance of following infection control measures remains our highest priority ensuring the safety of our team and clients.
Despite recent outbreaks in Sydney NSW, Vital Home Health Services staff on all levels are highly committed to maintaining social distancing at work and outside of work hours to ensure the safety of themselves and the clients they provide services to.
We recognise it is not a time to become complacent and are strictly taking all precautionary measure to keep the safety or our team and clients as our main priority and concern.
Stay at home and receive the best of care from Vital Home Health Services. Please contact us should you have any questions or concerns.
Update: April 30th
Vital Home Health Services are continuing to implement the most stringent measures in order to have zero COVID-19 cases amongst our staff and clients. Our most recent update here at Vital Home Health Services, are in line with the recent release of the COVIDSafe App.
We are proud of Vital Home Health staff, who have been working so hard and diligently throughout the pandemic, keeping themselves and consumers safe. Using this App is just another step that our staff feel will help keep Australians safe, therefore the uptake of the App amongst our staff has been encouraging.
The COVIDSafe app released by the Australian Government Department of Health speeds up contacting people exposed to coronavirus (COVID-19). This helps the Government support and protect you, your friends and family.
The use of the COVIDSafe app is being encouraged to be used amongst the general public to be able to identify close contacts of COVID-19. It speeds up the current manual process of finding people who have been in close contact with someone with COVID-19
How does the app work?
We are encouraging the use of the app amongst our staff and clients, to gain the many benefits of its use, including quicker contact tracing and more accurate and faster identification of possible exposure, therefore, reducing exposure risks to our clients.
You can learn more about the COVIDSafe App here, including what happens when an App user tests positive: https://www.health.gov.au/resources/apps-and-tools/covidsafe-app
At Vital Home Health Services, we know that being at home is the safest and most comfortable place to be and receive care.
For more information and resources on COVID-19 see our resources hub here: https://vitalhomehealth.com.au/category/covid-19/
Update: May 11th
As the state continues to take cautionary approaches to be safe and healthy, our Team at Vital Home Health Services have also been taking additional measures. Over the last week, all of our team members have had the season influenza vaccine, to keep themselves and our high-risk vulnerable clients safe.
Additionally, with the easing of lockdown measures and restriction, this has not changed any of our daily practices and infections control measures. COVID-19 remains a serious threat and our team are remaining vigilant and ensuring best practice for personal hygiene and social distancing.
We recognise it is not a time to become complacent and are strictly taking all precautionary measure to keep the safety or our team and clients as our main priority and concern.
Stay at home and receive the best of care from Vital Home Health Services. Please contact us should you have any questions or concerns.
Update: April 17th
Vital Home Health services continue to strive for zero COVID-19 amongst our staff and clients. Our stringent preventative measures have allowed us to continue the positive trend of avoiding the spread of this virus to anyone in our care.
Our staff continue to adhere to strict handwashing and the use of PPE to keep themselves and the client's health at its optimal best.
Stay home and receive the best of care from Vital Home Health Services.
See here an information sheet released by the Department of Health.
It's ok to have home care. An information sheet for older people who may have an aged care worker visiting them at home.
Click the image or here to access the information sheet
Update: April 6th – A message to our NDIS Participants
Vital Home Health is committed to ensuring that people with Disability are cared for in the safest way possible at all times.
Our Disability support staff have undertaken additional training to help support you to stay Infection-Free.
Our staff have also been provided with additional PPE to ensure everyone is safe at all times.
Please call us if you are experiencing any difficulties accessing care or services, we are only too happy to assist in any way we can.
The NDIS are also working around the clock on ways to assist you.
Please go to this link for further details on a new Priority home Delivery service available to NDIS participants.
Update: April 1st
A note from Vital Home Health Services CEO
Vital Home Health Services is more committed than ever to keep people healthy and happy in the safety of their own homes.
Home is where the heart is, and during this worldwide pandemic, this message has never been clearer.
Staying home if you can is the message. But staying at home can be hard if you do not have anyone to help you.
Please note that VHHS is calling all clients in our care to ensure they are not in need of food and essential supplies. This includes food and other essential household needs e.g. toilet paper.
If clients need assistance we will be assisting in any way we can, e.g. nurses picking up milk and bread on their way and dropping it off to the client's home. Other measures we are taking to assist include assisting the client to access Meals on Wheels or other modes of food delivery options available to them, if they wish.
By doing this the client is safe from not using transport services and going out in public thus putting them at risk or exposure to COVID -19. This also helps ensure that no one is left out and not adequately supplied during this period.
Where the appropriate family will be called to assist and if no family is available we shall assist our client to order what they need in the way of food and other essentials.

Update: March 27th
As an essential service, Vital Home Health Services are open and operating. We are closely monitoring the situation and updates from the relevant authorities.
The measures mentioned in our below update on the 19th are well into effect and we're continuing to monitor their implementation.
Additionally, all staff in our support office have been repositioned to ensure the new social/work distancing introduced by our government.
Furthermore, Vital has taken additional measures in the office with all staff to ensure their safety and the safety of others.
We've also standardised several practices with our nurses and support staff including:
Transitioned most staff members to work from home with only essential skeleton staff at Vital HQ.
Implemented strict cough and sneeze etiquette.
Implemented formal policies for staff to wash their hands when arriving at work, before eating or drinking or coughing or sneezing or touching the face.
Staff in the office are to only touch their own computers, phones and workstations.
Wipe down of workstations and computers every morning followed by washing hands.
Breaking down lunch times into small groups with above adequate social distancing.
Vital is committed to implement any measures to ensure our clients, nurses and staff remain safe. Further measures at Vital HQ include:
All communications with Vital HQ are to be made via email or telephone. Vital will arrange delivery of any supplies, paperwork, or wound care products.
Face-to-face meetings have stopped. Most meetings have been moved to video conferencing.
Our Face to Face continuous education programme for staff has been put on hold until further notice.
Online education however will continue as we have increased our online education options for our staff and nurses.
Employee Assistance Programme open to all Vital staff members during this time.
As and when more information and directives are received from the Government, we will continue to update you on this page.
More COVID-19 information in your language
If you or a loved one can benefit from reading Coronavirus information in a different language, please visit the resource guide from SBS which features news and information about the virus in 63 languages.
Visit this link: https://www.sbs.com.au/language/coronavirus
Update: March 19th
Vital has been strictly following health and safety protocols from the relevant authorities including the Department of Health Australia, the Department of Veterans' Affairs and NSW Health.
Fortunately, Vital has already operated under the most stringent standards, including those not mandatory in our industry such as accreditation by the Australian Council on Health Care Standards and being certified by the Australian Community Industry Alliance.
The benefit of our accreditations and certifications means Vital has already, for some time, met and exceeded health, hygiene and quality standards throughout the company. It's simply standard procedure at Vital.
Still, we have implemented additional health, safety and hygiene measures to protect our clients, the people around them and our staff.
Vital Home Health has established a dedicated internal team to monitor, report and provide any assistance around the ongoing situation. This team is in charge of our company wide Pandemic Plan and are providing round the clock support to our nurses who in turn are interfacing with our clients and their loved ones.
We are also closely following reports around the outbreak in the local communities where cases have emerged.
What Vital Home Health Services are doing to protect you and your family:
All clients and staff being queried about recent travel and potential contact or exposure to the virus.
Regular screening of all patients and Vital nurses to identify any signs of infection, including measures such as temperature recording.
We have been able to source additional face masks for our nursing staff to use when visiting our high-risk clients in their homes.
Mandatory COVID-19 infection control training provided by the department of health for all staff.
Reinforcing our existing process to ensure thorough personal hygiene including hand washing, the use of gloves, hand sanitising and more.
We are monitoring and keeping up to date with announcements and changes made by the Australian Department of Health.
There has been and will continue to be daily communications and updates to our nursing staff with any changes or added measures to continue to minimise the risk of exposure.
Additionally, we have created this information page pertaining to updates and our response to COVID-19 which will be updated regularly.
The COVID-19 pandemic is one that will be around for coming months but fortunately, Vital has been preparing for unfortunate situations like this via our policies, adherence to quality standards and training for some time.
If you have any concerns about the Coronavirus (COVID-19), we urge you to please seek advice from a medical professional. Alternatively, you can contact the department of health COVID-19 hotline on 1800 020 080.
As always if you have any questions and concerns regarding care at home, feel free to get in contact with us.
At Vital we often say Home is Where the Heart is and believe it's the safest place for our patients to receive care and we're committed to doing our part in achieving that goal.
NSW Health has updated its advice in relation to COVID-19.
Effective as of the 16th of March, anyone who arrives in Australia from overseas, is required to self-isolate for 14 days. Anyone found violating this directive may be subject to heavy fines.
This does not affect previous travel advice regarding travellers from mainland China, South Korea, Iran and Italy.
Further advice surrounding travel restrictions can be found on the Department of Home Affairs website. You may also visit the Department of Health regarding additional updates. We strongly advise our parents to stay up to date with these sites as the advice of Government Departments will change in line with the evolving situation.
Further to this update as of 19th March 2020
We will continue to implement additional safety measures for our team and patients, and as the situation changes and updates are made, we will make them known on this page for your information.
We would like to thank our community and patients for their support and understanding during this time.
Additional resources: